The Association PANDORA offers the possibility of organized study trips in Italy, in Macerata, including three possible kinds if Italian language courses to choose from: one-on-one, one-on-two, and group classes.
All of our teachers are native speakers of Italian with an University degree and extensive experience. Our lessons have a conversation-based approach. At the beginning of the course, the students will take a test that will determine their starting level of Italian. Courses are divided into 6 teaching levels (A1-C2), according to the Common European Framework of Reference for Languages (CEFR).
The general organization of the study holiday is as follows:
Lessons will be held Monday throught Friday, generally in the morning (from 9:00 a.m.to 13:00 p.m.). The school will provide the textbook.
In the afternoons and during the weekends, the Pandora association will be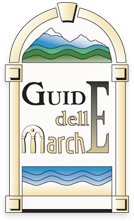 working together with the local association of licensed tour guides to organize study trips and leisure visits to the various sights and places of interest around the area.
The lesser-known region of Marche offers both mountains and beaches well-equipped for relax or sports, the outlets of many fashion brands for low-price luxury shopping, gourmet locally-produced food and wine, a surprisingly lively cultural life, and most of all a beautiful countryside dotted with peaceful hamlets.  Possible trips range from the cultural (some examples: the Sferisterio in Macerata, the birthplace of important Italian poet Leopardi in the little typical town of Recanati, the Basilica of the Holy House in Loreto) to the naturalistic (National Park of Mount Conero, Reserve of the Sibillini Mountains, the Frasassi Caves) to a tour of the cantines, or a boat ride to dive in the clean waters in front of Mount Conero, or a day out in the countryside riding a bike or a horse.
Our staff will be glad to help tailor your trip and your activities to your particular taste and needs
Upon request and given some time to organize, we will help you find confortable and convenient accomodation in Macerata, where the course will take place, which is also a convenient hub to reach many other places of interest in the area. The types of structure can range from apartments to hotels to bed & breakfasts, according to your wishes.
Programs Prices 2019
To find out how to become a member of the Association PANDORA and how to pay, please download the rules and instructions from the link below:
You can find the application form for membership in English here: Application form.
For any question please contact us.
Our current offers: